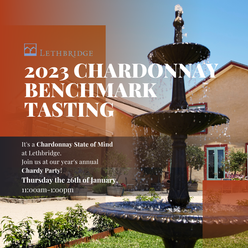 2023 Chardonnay Benchmark Tasting
We are very excited to invite you to our annual Chardonnay Benchmark Tasting for 2023. We have selected some of our favourite Chardonnays from around the world, including wines from NZ, Argentina, France, and Australia. We have also raided our personal cellar for this event and look forward to sharing a Leeuwin Estate Art Series Chardonnay and the Fabien Coche Meursault Les Chevaliers, 1er Cru. Needless to say, you can also expect to taste some Lethbridge Chardonnays from current vintage Ooh la la to museum vintage Allegra Chardonnay.

The tasting will include three flights of wines paired with delectable canapés. You will be tasting these wines 'blind', making this event an excellent opportunity to test your palate, learn something new and allow yourself to be surprised.