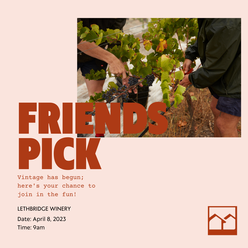 2023 Friends Pick @ Lethbridge Wines Rescheduled
Due to slower than expected ripening we have rescheduled our 'Friends Pick', but there will still be plenty of fun to be had one week later on the 15th of April
The nets are on and the grapes are ripening, albeit slowly, and it is time for our most celebrated event, the 'Friends Pick'
As usual with this event you start early, pick some grapes, meet new people and then enjoy lunch with a few glasses of wine all provided by us. This is the ultimate win-win, we get our grapes picked with your labour and you get to meet new people and a delicioius lunch. No wonder it is everyones favorite event!
When: Saturday 15th April, 9:00 am
Where: Lethbridge Vineyard, 74 Burrows Rd, Lethbridge
What to bring: Water bottle, hat, sunscreen, sturdy shoes, gloves if you dont want stained hands.
Cost: FREE for wineclub members (you must log in and use promo code 'Friendspick'), all other winelovers $20 per person.
Please note that the date or location of this event may change depending on ripening of the grapes.