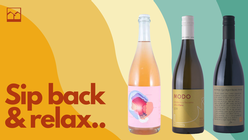 Lethbridge 4 Pack
2018 'Last Breath' Semillon - From one of Geelong's original vineyards, one we hold very close to our hearts. Vibrant with lemon grass, fresh herbs on the nose, and a touch of toasty oak.
2021 Que Syrah Syrah - This wine is pure expression of the rich fruit and spicy aromatics of Australian shiraz as well as the development of savouriness and texture reminiscent of Syrah. A truly delicious wine.
2016 Nebbiolo - one from the museum, 94 points from Halliday. Open top fermented with a modest 35 days on skins post ferment. The wine has autumnal flavours with deliciously firm tannins.
2019 'Hat Rock' Pinot Noir - This wine has a beautiful power. Its flavour profile is dominated by rich dark cherry but retains beautiful acidity. The Hat Rock Vineyard's black clay gives it a great, dark, umami, brooding character.