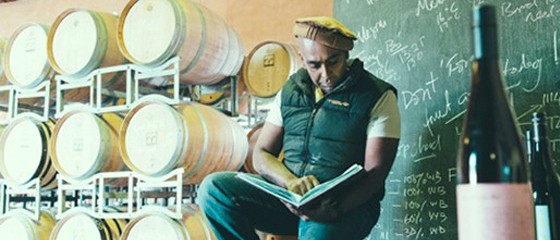 Lethbridge Estate Vineyard
The Estate Vineyard in Lethbridge, originally planted in 1874 by Swiss immigrants was replanted by the owners of Lethbridge Wines in 1996. This vineyard is managed following the biodynamic principles of Rudolf Steiner and is currently seeking organic accreditation from the Biological Farmers of Australia (BFA).
Re-established: 1996
Location: 30 km Northwest of Geelong
Rainfall: 520 mm
Heat Summation: 1240 degree days
Altitude: 250 m above sea level
Aspect: North East
Climate: Continental
Soil
The vineyard is divided into two distinct soil types. One type is a shallow black self mulching clay on 60-100cm of honeycomb basalt which is over solid bluestone. The depth of the clay is no greater than 50 cm, so the vines must send their roots deep into the rock to extract water and nutrients. The other soil type is a sandy clay loam which contains significant amounts of ironstone. The vineyard is divided into blocks based on soil types and we have found that the fruit from these distinct blocks have notably different characters.
Varieties Planted
Pinot Noir, Shiraz, Viognier, Merlot, Sangiovese Brunello, Gamay and Chardonnay.
Wines
Lethbridge 'Allegra' Chardonnay, Lethbridge 'Mietta' Pinot Noir, Lethbridge 'Indra' Shiraz, Lethbridge 'Hugo George' Sangiovese Merlot, Lethbridge Pinot Noir, Lethbridge Merlot, Lethbridge Zinfandel, Lethbridge Vin Gris, and Lethbridge Rosé.