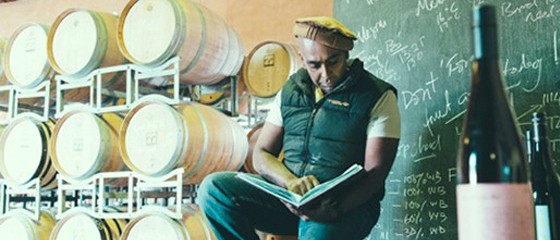 Biodynamic Winegrowing
What does "biodynamic" mean? The essence of the method is based on the premise that a farm, or in our case the vineyard, is a living, closed and self-sustaining ecosystem. This is an easy enough premise to accept, particularly for winemakers like ourselves who believe that terroir is one of the most essential ingredients of a great wine.
Biodynamic farming is an agricultural system with its roots in a philosophy. It was conceived by the Austrian philosopher/scientist Dr Rudolf Steiner and has much in common with organic farming. Where it differs is in the use of "special preparations", and in the timing of their application based on the phases of the moon.
As trained research scientists both Maree and I were very skeptical of all the hocus-pocus attached to the practice of Biodynamic farming. Until recently, biodynamics was considered a fringe activity pursued by crazy moon-gazers. In some ways that stereotype still exists, because the relationship between lunar cycles, soil and seasons is still a mysterious, misunderstood one. One thing that 15 years of a scientific career has taught each of us is, that to be skeptical is good but strong evidence for an observation should not be rejected just because we have no explanation for how it may work.
A look at a list of biodynamic wine producers reads like a who's who of some of the best wines in the world: Domaine de la Romanée Conti, Domaine Trapet, Domaine Leroy and Domaine Leflaive in Burgundy; in Alsace, Domaine Marcel Deiss, Albert Mann, Josmeyer, Domaine Weinbach, and Domaine Zind-Humbrecht. In the Rhône, Chapoutier and Tardieu Laurent. In the Loire, Didier Dagueneau, Domaine de la Coulée de Serrant and Domaine Huët. And that's a just a few from France. Australia also has its exponents including Cullen Wines, Henschke, Jasper Hill, Castagna and Carlei Vineyards. All these producers are driven by belief that biodynamics is better for the soil, the environment, the vines and the wines. With advocates such as these who are we to disagree!
Biodynamic Winegrowing In Practice
Composting
It's all begins with the compost. Each year we create 200 cubic metres of compost. These piles contain chicken manure, sheep manure, straw, grape marc/stalks, and all the vegetative matter from the property. They also contain some special biodynamic preparations (Compost Preparations 502-507), that are added to regulate compost decay and then enrich the life in the soil once it's applied to the vines. The compost preparations consist of different herbs and vegetative material - yarrow, chamomile, valerian, stinging nettle, dandelion and oak bark - that work together to enhance soil biodiversity.
Preparation 500, Horn Manure
There are two other important preparations unique to biodynamic farming: horn silica and horn manure. These preparations are made by filling female cow horns with either quartz crystal or cow manure. The horns are buried in the ground on the autumn equinox and removed on the spring equinox. The horn silica helps the up take of micronutrients from the soil that would otherwise be unavailable to the vines. The horn manure has a rich, sweet earthly quality that enhances microorganism life once applied to the soil.
Stirring Machine
Stirring the preparations is one of the most intriguing aspects of biodynamic farming. Not only do we have to stir the mixtures for an hour, but the way the mixing is conducted is important. The water along with the preparations are stirred continuously to create a vortex, which is believed to promote micro-organism growth once the preparation is applied to the soil. We think it probably has something to do with increasing the dissolved oxygen in the solution.
Timing
The time of day, time of year and the lunar cycles play a big role in the creation and application of the biodynamic Preparations. Though the idea of some cosmic or universal consideration is an ancient concept in farming, modern farmers have to large extent forgotten these traditions. Our forebears believed that the moon and sun rhythms, along with celestial events, seemed to affect plant growth and formation - thousands of years of experience cannot be easily discounted.
Cover Crops
Cover crops are specially selected, beneficial plants which are sown between the vine rows to store nutrients, like nitrogen. They also stabilize soil during heavy rains and hold moisture during drought periods. Cover crops also provide forage for the animal life at Lethbridge Wines.
Sheep
At present there are about 25 sheep at Lethbridge Wines. Biodynamic farming encourages self-sustaining methods. The sheep are an excellent example of this practice. The sheep control cover crops and weeds, while their manure is used in the compost that in turn produces healthy vines.
Chickens and Geese
Chickens and geese share our vineyard with the sheep and our crew. We currently have 10 chooks and 5 geese that feed on grass, weeds, seeds and insects - all the while providing a fertilising and aeration effect for the soil. We brought in geese this season specifically to help deal with the snail problem and they have been very effective. Our chickens are also prolific egg producers, supplying enough eggs to keep us well fed as well as providing fresh eggs for purchase at the Cellar Door.