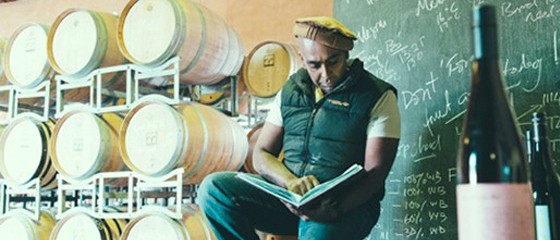 Our People
Ray Nadeson – Owner and Winemaker
Ray came to the wine industry from an academic background. After spending 10 years researching and teaching neuroscience at Monash University, Ray's passion for wine led him and partner Maree Collis together with friend Adrian Thomas to establish their own wine company. For 8 years Ray continued his academic career, publishing extensively in the area of pain research whilst at the same time establishing Lethbridge Wines and earning his degree in winemaking from Charles Sturt University, Wagga Wagga. In 2003 Ray decided that Lethbridge Wines needed his full commitment and, with some trepidation, jumped in with both feet.
Ray's role is multi-faceted; he is responsible for overseeing the vineyard work at Lethbridge and heads the small but highly talented winemaking team at Lethbridge Wines. He also undertakes contract winemaking for some select of small premium producers who share the philosophy of minimal intervention and no compromise wines.
Email: ray@lethbridgewines.com
Maree Collis – Owner, Winemaker & More
Maree was a hard-working dedicated scientist working in area of medicinal chemistry research when she was led drastically astray by Ray Nadeson and Adrian Thomas. One Burgundy too many and she had agreed to spend all her money and weekends toiling on the vineyard and in the winery. Maree was central to the establishment of Lethbridge Wines in 1996, and in the same year undertook studying for a Winemaking degree at Charles Sturt University, NSW.
While in recent years Maree has been less hands on in the winery, there are now four small future winemakers to manage, she is still active in all areas of the business. During vintage she is still involved in making wine most wines still need her nod of approval. Maree takes a lead role in the marketing and administration side of the business
Email: maree@lethbridgewines.com
Adrian Thomas – Owner and Wine Lover
Adrian is not your average doctor with a vineyard. In the mid 1990s Adrian was working as a cardiovascular physician and undertaking a PhD in epidemiology looking at the role of vitamin E in the development of cardiovascular disease. However, his personal preference for delaying the onset of such disease was to imbibe in Grand Cru Burgundies. His love of great wine led him to join with Ray Nadeson and Maree Collis to establish Lethbridge Wines.
Adrian is currently working in a senior role at Johnson & Johnson Pharmaceuticals in Belgium. He makes regular visits to Lethbridge and lends his extremely well-honed palate to many of the blending decisions.
Joey – Public Relations Officers
No Winery is complete without it's meet-and-greet person. Joey our extremely cute Poodle has taken up this responsibility with gusto, following in the best traditions of our much loved Jack Russell, "Bosun" and Border Terrier 'Harry'.
Also Featuring
No small vineyard and winery could survive without the enthusiastic help of committed friends. There are three in particular that we would like to acknowledge as we they are always there when needed, pruning in the freezing cold, working the night shift during vintage, and being a calming influence on those high stress bottling days, Stef, Terry and Julie.